PARTNER WITH QUEEN CITY PRIDE
Updated for Pride 2023
We've updated the following content for the 2023 Pride Festival.
We're Excited to Celebrate Pride Together!
Pride is not just a parade or festival. For Regina's 2SLGBTQIA+ communities, Pride is a celebration, a statement, a protest, a feeling. It's an opportunity to be authentic and true. It's connecting with community. It's striving for equity – Together!
This year, we're excited to bring back many of our popular "in-person" events while still being mindful and considerate of public health and safety. We look forward to hosting a variety of in-person, virtual, and hybrid events and activities during this year's festival.
Your support helps transform our city into a colourful and vibrant celebration of diversity and community during the Queen City Pride Festival. Each year, we connect with over 20 different organizations and groups to create a jam-packed programme with events and activities for everyone to enjoy!
Our festival is not only a celebration of our past and present but a call to action as we continue to advocate for rights, challenge stigmas, and make the world more inclusive and loving. We invite you to raise your voice for inclusion and diversity as a supporter of Queen City Pride.
2023 Partnership Package
Discover the many ways you can partner with Pride. Includes General Sponsorship and unique "à la carte" opportunities.
Join our growing family of partners in supporting our festival.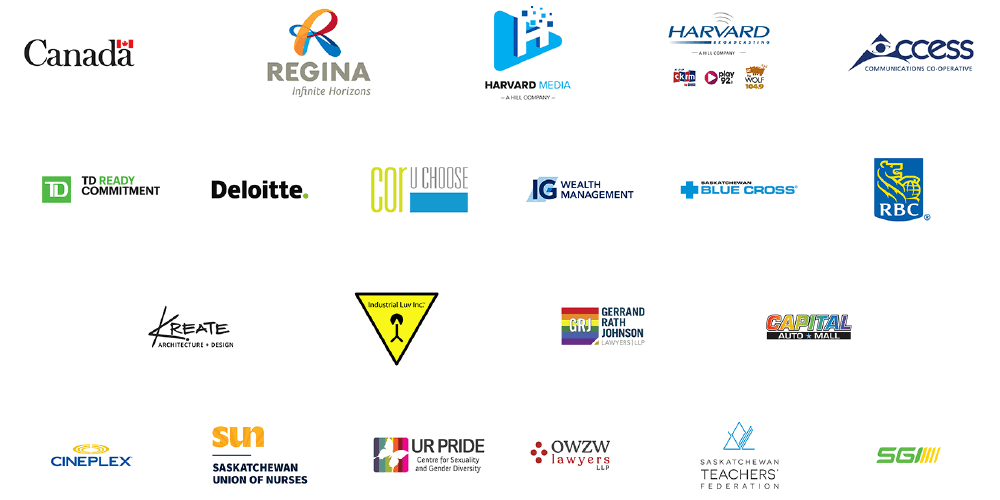 Does your brand deserve fabulous results? Then let's talk.
Send us an email to sponsorship@queencitypride.ca or give us a call at 888-386-5687 to speak with one of our sponsorship committee representatives.
Disclosures
Regina Pride Inc. has final discretion on all events, publications, and sponsor arrangements for official festival materials and will prioritize cultural integrity over revenue. All potential sponsors will be considered on their current and historic relationship with the 2SLGBTQIA+ community. See the 2023 Partnership package or email sponsorship@queencitypride.ca for more details.